As we gear up to celebrate the season of joy and mirth across the world amidst challenges, Media Samosa takes you sleighing on a nostalgic trip of Christmas OOH campaigns that created a mark.
As the industry continues to wade past the obstacles towards the Christmas season, we take a look at the holiday campaigns of the media channel that was most widely impacted during these times –  OOH. Here are some of the best Christmas OOH campaigns of all time.
While going down-the-memory-lane to trace some of the best Christmas OOH campaigns across the world, we noticed that many brands have attempted to spark conversations and imaginations through bright hues and compelling storytelling. For instance, OOH Adverts of Spotify and Coca-cola with Christmas colors.
Some Christmas OOH ads bring out poignant emotions and messages. A lot of them also revolve around driving home for the season. For example, Budweiser's latest 'Wise men don't drink & drive' campaign of 2020. Activations and campaigns at prominent malls, airports, and other high transit points is the most common trend in OOH Christmas campaigns.
One of the crucial evolutions in the OOH industry has been interactive DOOH activations. Brands have leveraged DOOH to drive optimum impact during the year-end, aiming to combine technology with Christmas fervor. In one of the instances, Waitrose's brought forth a 4-D experiential DOOH campaign in London. As the song, 'Snowed In' played, every 30 seconds and every half an hour, the playout of the ad triggered snow cannons that sent snow swirling over delighted shoppers passing by the screens at Westfield London's Eat Street and Stratford City's Four Dials.
Another example is an interactive DOOH campaign in Buenos Aires by a credit card brand, Tarjeta Cencosud, which leveraged technology with ultrasound message inaudible by humans, allowing to communicate offers without being heard by children.
Another noteworthy trend of the season's end OOH campaigns is adverts for movie releases during this time depicting popular characters.
Okay! Major props to the marketing team behind "The Grinch" …these LA specific billboards are SAVAGE!!! pic.twitter.com/uLFG4byxHH

— Patrick Dougall (@PatrickADougall) October 26, 2018
Animations, heartfelt stories through characters, digital films extended to Christmas billboards, technology combined with sentiments – brands have danced to the tunes of varied tactics to create eye-grabbing Christmas OOH campaigns. As they continue to bring a dose of humor with a dash of goodness through the season, we take you on a nostalgic trip of some of the best Christmas OOH campaigns from across the globe over the years.
Budweiser – Wise men don't drink and drive 
Tarjeta Cencosud – The Unexpected Message at Buenos Aires
Lidl- A Christmas you can believe in 
Waitrose Christmas Snow at Westfield, London
Spotify – 2018 Goals
Cadbury Dairy Milk's Pop-up Santa Billboard
Coca Cola- Holidays are coming in Ireland
Share a Coke
Tesco Hyperlocal OOH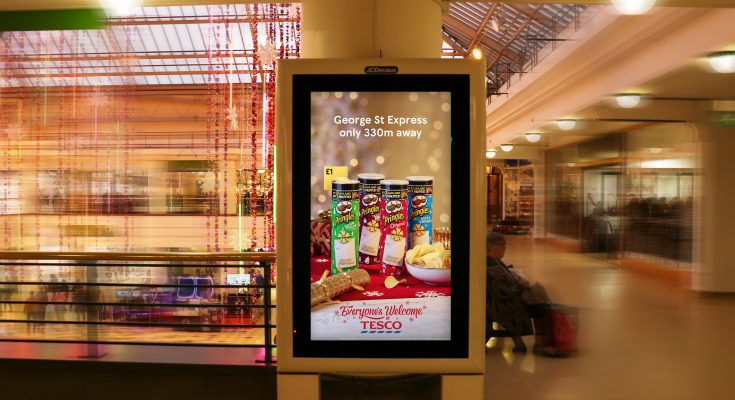 Westjet Christmas Miracle with Interactive Santa (2013)
Huawei Christmas Campaign (2013)
Lego- Caterpillar in Singapore
Asus – End Bad Gifts 
Dunkin Donuts
Disney+Hotstar
Comments
comments